Communities, Townships, Churches
---
EMMA TOWNSHIP
This township embraces a fine farming district, and is situated in the southeastern corner of White County. It comprises fifty-eight square miles, and consists of township 6 south, range 10 east, and the north half of township 7 south, range 10 east. It is mostly timbered land, with some prairie land near the center. The Great Walbash River bounds it on the east,while the Little Wabash runs through the western portion. The Louisville & Nashville Railroad crosses the Big Wabash in the northeastern corner of the township.
The first settler was probably Robert Land, who moved here with his wife and four children in 1809, a more extended account of whom is given in Chapter II. Among the early settlers may be mentioned James Dorsey, Miles W. Burns, Joseph Garrison, Charles Mobley, George, Alexander and Thomas Logan.
Aaron Franks, now a resident of Wabash Station, came to this county in 1832. He was born in West Virginia, about fifty miles below Wheeling; after living in Ohio about thirteen years, he came to this county, settling about ha1f a mile southeast of where Wabash Station now is, during the Black Hawk war. His nearest neighbors at that time were Thomas Stephens, about a quarter of a mile west of him, in the little prairie; Mr. Goodin and his son Joseph, about a quarter of a mile distant; John Holderby, also in the little prairie; and Joel Abshier. All these are now deceased. Mr. Franks is still living, his residence being on the bank of the Big Wabash, 200 or 300 yards from the saw-mill. To him we are indebted for some of the facts of history in this volume, especially those relating to improvement of navigation in the Wabash.
John Marshall, of Marshall's Ferry, is also an old resident, and one of the most prominent men of the township. He has in his possession a sword, which is one of those ordered by the State of Illinois and presented to the officers of the Mexican war. It has this inscription: "Presented to Major Samuel D. Marshall for services in the Mexican war." The sword is beautifuly engraved, the battle of Cerro Gordo being represented on one side. It is very heavily plated with gold, as is also the scabbard, the whole being encased in satin in a fine rosewood case. He was an intimate friend of Abraham Lincoln; was in the Legislature with him one term, and was with him on the Harrison electoral ticket in 1840. John Marshall has in his possession a letter from Mr. Lincoln written in February, 1849, to Major Samuel D. Marshall, Shawneetown, Ill.
There are also many relics of antiquity found in this township. Two skeletons were recently found on Colonel Crebs's land at the Little Chain,supposed to be those of Indians; how they came there no one knows.
Source: History of White Co. 1883
Submitted By: Misty Flannigan
---
Here is an expanded Emma Township article submitted by Suzanne McCormick, written November 25, 1957 by Sallie Helen Brumblay for the Carmi newspaper:
"Emma township is situated in the southeastern corner of White County. It comprises 58 square miles and consists of township 6 S., range 10 and 11 E and the north half of township 7 S., ranges 10 and 11 E.
The Big Wabash river bounds it on the east, while the Little Wabash river runs through the western portion. The Louisville and Nashville railroad crosses the Big Wabash in the Northeastern corner of the township.
The first settler was probably Robert Land, who moved here from South Carolina with his wife and four children in 1809. His object in coming to Illinois was to get away from the influence of slavery. Among the early settlers in what is now Emma township may be mentioned James Dorsey, Miles Burris, Joseph Garrison, Charles Mobley, Charles Slocumb, Joel Abshier, George, Alexander and Thomas Logan.
George Logan was one of the ablest men in southern Illinois and represented White County in the legislature with great ability. Another early settler was Aaron Franks who came here during the Black Hawk War.
John Marshall was also an early settler, and one of the most prominent men in the township. He was of Irish descent and was born in Shawneetown, Illinois in 1820 and married there. He settled here in 1852, bought Codd's ferry wich was the first ferry to operate on the Big Wabash river in White County and changed the name to Marshall's Ferry. A store and post office were opened here in an early day and were the first in the county. This ferry was about midway between Grand Chain and Little Chain. A ferry was in operation at or near this place continuously until the summer of 1956, when a new bridge was built across the Big Wabash, south of Little Chain.
Mr. Marshall built his home, a one and one half story log house not far from the river bank. This house was destroyed by fire in the fall of 1950.
As long as John Marshall lived, the family served four meals a day instead of the usual three. Mrs. Marshall arose at midnight, prepared a meal and all the family gathered around the table to eat as at other meals.
In those days one didn't go shopping often so when the Marshall women found a piece of material that suited their fancy, they would buy the whole bolt. They were very generous by nature and when any of their friends or a needy person wanted a few years of material for dresses, aprons, etx., they would get out their bolts of material and gladly give any amount needed.
Mr. and Mrs. Marshall were the parents of ten children, five boys and five girls, none of whom ever married. Mrs. Marshall died in 1871 and Mr. Marshall in 1886. Both Mr. and Mrs. Marshall and their ten children are buried in Marshall Cemetery. They have one of the largest and most beautiful monuments in the county.
Another prominent man of this vicinity was Maxfield Huston, who came here in 1865 from Rising Sun Indiana, and purchased a large tract of land. He had known John Marshall previous to this and it was one of the reasons Huston came to this part of the country. After Huston had settled here he plotted a small town near the banks of the Big Wabash river. He named this village Rising Run, familiarly known as Dogtown, after his home town in Indiana. He also donated 1/2 acre of ground for the erection of a building to be used for school and church purposes. This village is still in existence. The Huston home was located north of Rising Sun and only a short distance from the river. This house washed away in the 1937 flood.
Mr. and Mrs. Huston were the parents of several children. As each child married they were given a tract of ground to start a home. The only child to remain in the township was Sarah Ellen who married in 1868 John S. Brumblay, a native of Dearborn County Indiana.
Mr. Brumblay had the advantage of a good education and attended Moores Hill College, which was later moved to Evansville, Indiana and is now known as Evansville College. He was held in high esteem in the community and was elected tax collector in 1874. In those days the collector rode from house to house collecting taxes. Politically Mr. Brumblay was a democrat but cast his first presidential vote for Abraham Lincoln in 1865.
Mr. and Mrs. Brumblay were the parents of one son, Walter W., born in 1870. This same year Mr. Brumblay built a home for his family. All material was hauled by wagon from Mr. Vernon Indian, fording the river just south of the railroad bridge.
Their son Walter, married Clora M. Cortner, daughter of Peter and Mary J. Cortner, residents of Carmi. They had two daughters and lived in this same house. Today this house is the home of his granddaughter Sallie Helen Arnold.
Mrs. Brumblay was called "Aunt Sallie" by everyone who knew her. She was a devoted member of the Christian Church in Carmi and there was nothing she wouldn't do for her friends and neighbors. She died in 1901 and her husband John, or "Uncle John" as he was familiarly known died in 1916. Their son Walter passed away in 1946 and his wife Clora in 1947. All are buried in Marshall's Cemetery.
The ground for this cemetery was donated by John Marshall and Maxfield Huston. Each family reserved a lot on the tract of ground he had donated for members of his family to be buried.
There were other early villages located in Emma township besides the two already mentioned.
As the first settlement of southern Illinois, Concord was the garden spot of Egypt. It was laid out in 1869 by Hail Storms, county surveyor. The village had existed long before the survey. The Slocumb's settled here as early as 1815 and a thriving village existed at that time. The name Concord was selected by Charles Slocumb because it had a peaceful or religious significance. It is still an existing village. The post office was at this place in Emma.
In 1844 Elm Grove first appeared as a place of business. William Garrison erected a storehouse under an elm tree that stood by the roadside, and for which the place was named. From 1861-1865 this place was the center of a large territory. There were three stores and two saloons located here. There was also a Methodist Church in the village, the only one in the township. There is nothing left of this village today.
Wabash Station was a station south of the Louisville and Nashville railroad. No village was laid out here, although at one time there were two stores, a blacksmith shop, a saw mill and about a dozen houses. The post office at Marshall's ferry was moved to this place. Wabash Station no longer exits, but in the year 1892 another town was plotted, north of the railroad and a little west of Wabash Station.
John Pumphrey, his wife Jennie and Richard Allison were owners of the land. G. S. Sheridan was the surveyor. His wife's name was Maude so they took the first three letters of her name and the last three letters of Mrs. Pumphreys name and called the place Maunie. At one time this was a thriving village of some 450 inhabitants.
There were several stores, two drug stores, a bank, a bakery and flour mill located here. There were also four grain elevators in operation. Maunie is the largest village in the township today.
These men I have mentioned, with many others, are the men who felled the trees and built the first houses in what today is known as Emma township.
In 1860 there were seven schools in the township with a total of 353 pupils. Teachers were paid wages of $25.00 to $35.00 per month.
In 1882 there were eight school's with a total of 725 pupils. Teachers were paid $30.00 to $40.00 per month.
Today with consolidation there are only two school's operating in the township. One at Maunie has 87 pupils enrolled and Concord has 41 pupils enrolled. The minimum wage for teachers today is $3200.00 per year.
In this township, especially near the Big Wabash river, water was the main source of travel. At one time the river was navigable and large boats made scheduled trips to various points on the river. As a small child it was a very exciting time when one of these boats whistled for the drawbridge to open and the family would all go to the "big hill" to watch the boats and barges go up and down the river. In those day there was quite a bit of traffic on the river and the railroad kept a man on the bridge to watch and operate the drawbridge. Boats were loaded and unloaded in front of the Marshall home.
In the year 1865, Mr. Hustons daughter, Mrs. Israel Turner and baby daughter came from Rising Sun Indiana to visit her parents. The baby had not been given a name. Since the boat trip was so pleasant she decided to name her daughter Minnie Ola, which was the name of the boat.
These boats were called packet ships. This family later moved to Emma township, and then to Carmi, where this baby grew up, married and will be remembered as the late Mrs. Eugene Parvin.
My grandmother, Mrs. John Brumblay made numerous trips to Memphis Tennessee, by this mode of travel, to visit her sister Suzanne, who was the wife of General Milton Williamson.
The first train to run from St. Louis to Evansville was taken through the township in 1871 and made a scheduled stop at Wabash Station.
A short distance from the banks of the river south of Rising Sun is located one of the first cemeteries in the county. The date when this cemetery was first used is unknown. the earliest date known was marked on a plain sandstone slab, on which was engraved the dates 1732-1817. Another one of those early stones bore the name Robert Boss born in Northwick, England, departed this life February 8, 1820. On the top of this stone was a square and compass. It is said that some of these people may have died while enroute to the salt mines near Equality Illinois. At one time there were forty or fifty graves here. Some of these stones were sold to museums but most of them were broken up and used as anchors by fishermen.
There are many Indian Mounds within a mile of the river. These mounds contained many valuable relics and skeletons.
Mr. W. M. Locke, a resident of Wabash Station was one of the first men to dig in these mounds and he had the largest and most interesting collection of Indian antiquities in the county.
In 1950 archaeology students from the University of Illinois spent several weeks digging in these mounds and they found a number of relics and several skeletons.
About two miles southwest of Rising Sun was the locations of Clear Lake which was one of the best fishing spots in the county. In the early days hundreds went every year to hunt and fish. In recent years this lake was drained.
There was also much wild game here. Wild hogs and turkeys were plentiful at one time and were a wonderful source of food for the early settlers.
This information was obtained from History of White County published in 1883 by Inter-State Publishing company of Chicago. Also information was obtained from old family records kept by Maxfield Huston and his daughter Sallie Brumblay. (note: here Sallie Brumblay refers to Sarah Ellen Brumblay)
HORACE NEWELL ARNOLD
Born: March 29, 1860 in Murfreesboro, Rutherford Co., TN
Died: February 15, 1894 in Murfreesboro, Rutherford Co., TN
Buried in Evergreen Cemetery, Rutherford Co., TN
Married December 17, 1885 in Murfreesboro, Rutherford Co., TN to FANNIE BROOKS BUTLER
FANNIE BROOKS BUTLER
Born: March 29, 1866 in Murfreesboro, Rutherford Co., TN
Died: December 17, 1913 in White Co., IL
Buried in Big Prairie Cemetery, Epworth, White Co., IL
Children of HORACE NEWELL ARNOLD and FANNIE BROOKS BUTLER
1. Horace Newell Arnold
Born: February 17, 1887
2. FELIX WILLIAM ARNOLD
Born: January 22, 1890 in Murfreesboro, Rutherford Co., TN
Died August 8, 1963 in White Co., IL
Buried: August 11, 1963 in Big Prairie Cemetery, Epworth, White Co., IL
Children of SALLIE HELEN BRUMBLAY and FELIX WILLIAM ARNOLD
They had only one child, Suzanne Arnold, born January 21, 1943
Buried in the Marshall Ferry Cemetery in Emma Twp., White Co., IL are the following people from my family:
Maxfield Huston and Electa Fisher
The stone is very old and worn and illegible.
The dates of birth and death for Maxfield and Electa are given in the previous material
John S. Brumblay
1844-1916
Sarah E.
1847-1901
(note: Sarah E. is the daughter of Maxfield and Electa)
Brumblay
Clora M.
1872-1947
Walter W.
18770-1946
(note: Walter is the son of John S. Brumblay)
George W. Huston
Born August 25, 1832
Died May 30, 1906
Mary M his wife
Born June 7, 1833]
Died January 14, 1906
(note: George W is the son of Maxfield Huston and his first wife, Jan DeWit-He lived in White Co.)
Benton V. Huston
Born December 20, 1867
Died August 21, 1907
Sybilla S. his wife
Born November 3, 1869
Died July 26, 1952
(note: Benton V. is a son of George W. Huston and his wife)
Israel Turner
1837-1912
Electa J. Turner
1843-1920
(note: Electa J. is a daughter of Maxfield Huston and Electa Fisher-She is also a sister to the wife of John S. Brumblay, Sarah Ellen.)
---
GRAY TOWNSHIP
Since 1872, the date of township organization in this county, Gray Township has comprised the south half of Congressional townships 3 south, 10 and 11 east, and 14 west, being a strip three miles wide by aboiat ten miles long, in the northeastern corner of White County. The soil is a clayey loam, well adapted to all agricultural purposes, and the swamp lands therein contained are easily drained and converted into the most fertile fields. The township was originally covered with timber, most of which has been cleared away to give place to fine farms. The portion next to the Big Wabash is broken, and characterized by the most interesting geological deposits. Prior to 1872 Grayville Precinct comprised a piece of territory almost square, in the northeastern part of White County, including a part of what is now Phillips Township, but extending no farther west than the Little Wabash.
The earliest residents of the township first settled in or near what was afterward Grayville, and their names appear mostly under a subsequent head. We will name here in addition to those, George Webb, who lived at Bonpas, a point named after the creek; Joseph Spencer, Charles Naylor from England,Samuel Hallam, William Hallam (deceased), Zach Boultinghouse and James Frazier.
There are two small churches in the township-Cumberland Presbyterian and Methodist Episcopal-outside of Grayville. The latter is four miles west of town. R. E. Mathis is the present pastor.
Source: History of White Co. 1883
Submitted By: Misty Flannigan
---
HAWTHORNE TOWNSHIP
This township borders on the Great Wabash River, and lies between Phillips on the north and Emmma on the south. It consists of township 5 south, range 10 east, and comprises forty-six square miles.
Among the early bettlers were Aaron Williams, Nathaniel Blackford, Enoch Hargrave, Daniel Winkler, the Lands and Sellers. Mr. Winkler started a ferry and ran it for some time, and then sold to a man by the name of Collins. The latter sold to Aaron Williams, and the ferry was long known as Williams's Ferry. Martin H. McCreery is one of the oldest settlers of this township, and, in fact, of White County, having come here with his parents as early as 1811. A more extended account is given in the history of Grayville. This was also the home of the McHenrys, Joneses, Lawlers, McCowns, Kuykendalls and Chisms; the elder ones bearing their names have passed away, and their survivors should feel proud of their ancestors, for a more noble lot of men never settled in the county. The Cairo Vincennes Road runs through this township; also the Louisville & Nashville Railroad.
Like most of our Western countries in pioneer times,tbe Indians were numerous and sometimesvery troublesome. Mr. Richard Davis, one of the early settlers, was riding along a bridle path when he was fired upon by some Indians and had his thigh broken by the shot; he,however, managed to remain on his horse and finally reached home. He lived a number of years after this and died in Gray Township; he will ever be remembered as one of the most prominent citizens of the county.
One of the numerous bear-killings of the township took place a few rods from where James R. Brown now lives, on section 25 A path was being cut through the brush, when a large and very fat bear was discovered. One of the party thought to kill it, and cutting a club went at the bear; but the bear being "the better man of the two," was getting the best of the fight, when the other men went to his assistance with their axes, and soon "bear bacon" was plenty in the neighborhood.
A few hundred yards from Mr. Brown's house he killed a very large buck one morning, with twelve points on each beam, or horn. The antlers were taken to Nashville,Tenn., by Government Agent G. W. McKinzie, and by him were gold gilded, and are now in his office. James R. Brown's name is engraved beneath the antlers. Another large pair, taken from a large deer killed by Mr. Brown, are in the office of Wolfin & Co., at Mt. Vernon, Ind. These are the largest antlers known in this part of the country.
Buffalo used to be abundant in this township, but are now extinct; also tigers, catamounts, wild-cats, wolves and panthers, but all are killed off with the exception of now and then a wild-cat. Wild turkeys are abundant, though not so many are found as at an early day. Squirrels, though somewhat abundant, are not so plentiful as formerly; prairie chickens and pheasants used to be found, but are nearly all gone; in fact, all kinds of game are becoming scarce.
Fish used to be very plenty in the Wabash and Skillet Fork, and other streams around, but are becoming quite scarce, although a considerable many are still found in the Wabash. Mr. Brown has a very fine fish pond of about fifteen acres where fish are easily caught, and by calling on him a permit may be had to fish here. Mr. Brown has been one of the best hunters in this township, frequently killing from four to nine deer in one day; from six to fifteen turkeys was a fair night's work for this game. He once shot a deer and made six holes through his skin. Mr. Solomon Bryant killed two white deer in this township.
Mr. Brown has the largest and best pecan orchard in White County, there being about 200 bearing trees; hundreds of bushels are gathered nearly every year. Mr. Brown is now fencing this orchard.
Source: History of White Co. 1883
Submitted By: Misty Flannigan
---
HERALD'S PRAIRIE TOWNSHIP.
This township lies in the southern portion of the county, adjoining Gallatin, and is bounded on the north by Carmi, east by Emma, and on the west by Indian Creek. It comprises one and a half Congressional townships, or fifty-four square miles. In an agricultural point it ranks amoung the first in the county. It contains an intelligent class of agriculturists, who have made good improvements throughout the county. The Little Wabash River enters the township near the center of the north side, runs south nearly four miles, then makes its exit near the southeast corner of 6 south, 9 east.
Source: History of White Co. 1883
Submitted By: Misty Flannigan
---
INDIAN CREEK TOWNSHIP -- OLD SHARON CHURCH

(History of White County Illinois, Inter-State Publishing Co., Chicago, Ill 1883, FHL US/CAN book 977.396 H2h 1966)
Sharon Church is the oldest Presbyterian church in Illinois. It was organized in 1816 by Rev. James McGready, of Henderson, KY. The first three ruling Elders were: Peter Miller, James Mayes and James Rutledge. Mr. McGready died in 1818 or 1819, and was succeeded by Martin B. Darrah. Rev. B. F. Spilman preached to this church while he was a licentiate, and was ordained to the ministry and installed its pastor in November, 1824, by Muhlenburg Presbytery. This pastoral relation lasted only about eighteen months. After this the church was supplied by a number of ministers, among whom were Revs. Isaac Bennett, William Hamilton, B. F. Spilman again, John Silliman, Andrew M. Hershy, R. H. Lilly, John L. Hawkins, William Gardner, James Stafford, John S. Howell, R. Lewis McCune, Thomas Smith, and B. C. Swan, the present pastor, who preaches to them one-fourth of his time.
This congregation has had four buildings of worship. The first one was of logs, about one fourth of a mile north of Peter C. Miller's house, in township 5 south, range 8 east of third principal meridian, northeast quarter of section 21. It had only one window and was roofed with clapboards. On the right, near the opening that surrounded the house, was a stand, consisting of a raised platform between two trees. Logs and split puncheons and slabs were arranged in the shade for the congregation to sit upon. On the other side of the opening, a few steps from this stand, stood the hewed-log house, facing southward, with one door in the south side. The pulpit was in the east end, and the small four-light window, before mentioned on the right of the pulpit. A hearth of flat rock laid in the floor near the center of the house served for burning charcoal in cold weather. It was in this house that B. F. Spilman was ordained. A man now living in the neighborhood remembers seeing him spread his white silk handkerchief on the floor on which he kneeled during the ordaining prayer.
The next building was about two miles southeast of the first, near A. H. Trousdale's. This, too, was of logs. The third house, also of logs, was close by the site of the present building. The fourth is a frame house, of good size, and was finished in the spring of 1864; cost, about $700, and is situated on section 4. A cemetery joins this building and is owned by the congregation. It began to be used more than sixty years ago. The first three buildings have gone entirely to ruin. There have been connected with this church from the beginning over 200 persons. It is a mother church. Carmi and Enfield are largely formed from it. Presbytery held a meeting with this church in September, 1827. Great crowds attended, and services were held both in the house and in the grove. The Springfield & Shawneetown Railroad passes within three fourths of a mile of the church building.
In the fall of 1881 the building was repaired and improved, and its prospects are now brighter than they have been for many years.
Submitted by Carol Olson
---
INDIAN CREEK TOWNSHIP -- POWELL GENERAL BAPTIST CHURCH
(From p 70 of Norris City and Indian Creek Township, Illinois, by Edward Oliver ; sponsored by Norris City Lions Club, published in Norris City [Ill.] by Norris City Lions Club, c1980, FHL US/CAN Book 977.396/N1 H2o)
Powell General Baptist Church
Powell General Baptist Church was organized in the fall of 1872, by Rev. Mr. Hart, with eight members, Bettie Satterfield, Kate Satterfield, Jane Acord, William Holland and wife, Robert Cummings, and Wilson Hale and wife. They purchased the Powell Church in May, 1875. The house was built by Daniel Powell around the early 1860's for the Predestinarian Baptists, but they never organized a church there. The first pastor was Rev. Mr. Hart. Other early pastors were Rev. James McIntosh, Rev. David Ashley, Rev. William Clark and Rev. John Cox.
Powell is now the largest General Baptist Church in Indian Creek Township.
Submitted by Carol Olson

---
Norris City Pioneers--I have had these scans for several years and this seems like a good place for them: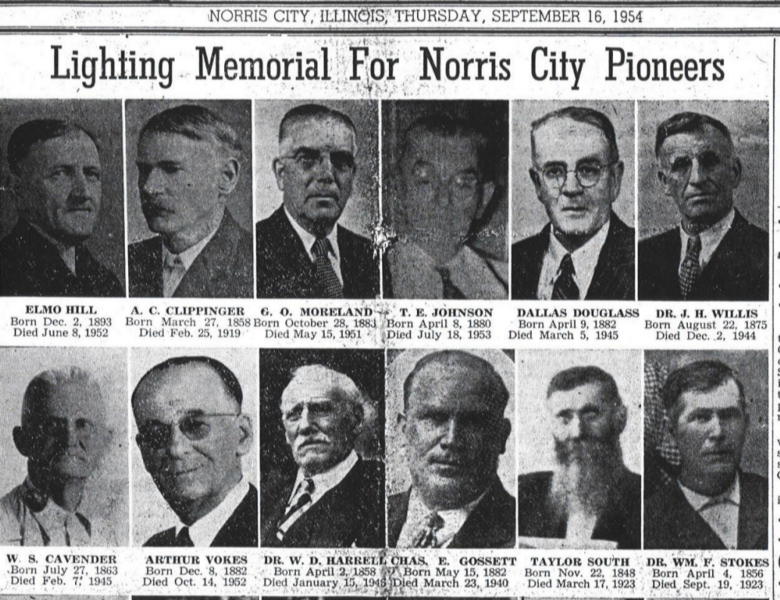 ---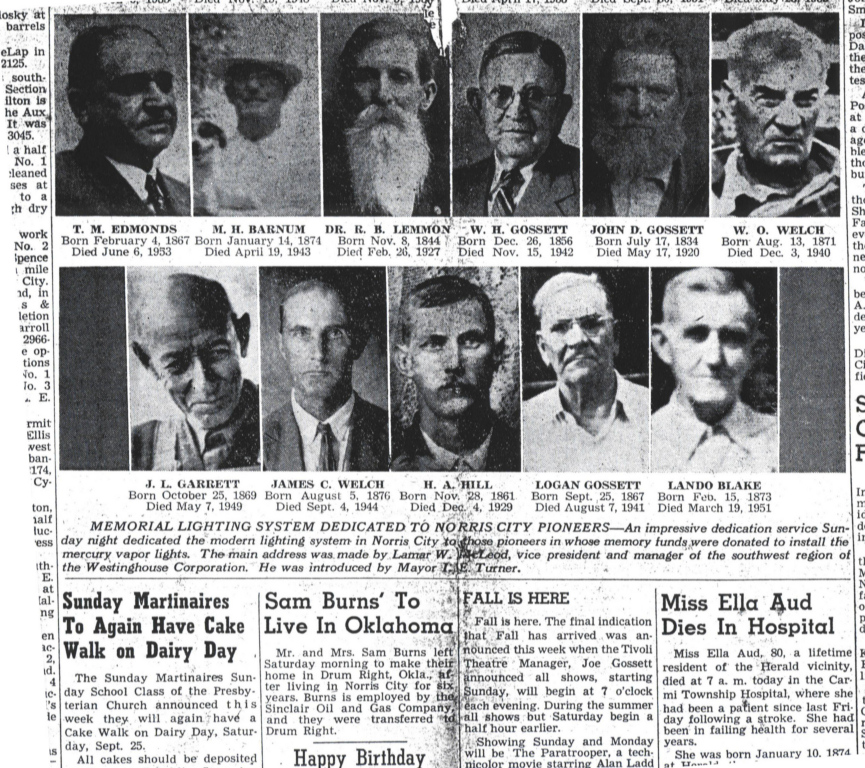 ---
History of Enfield Illiinois From the 1953 book by Margaret Davis Land
---
Carmi History A little page from several years ago.
---
---
The Coordinator for the White County, Illinois ILGenWeb page is
Cindy Birk Conley
Personal Web Site:
home.midwest.net/~cbconly
---
Created by Laurel Crook, 22 Oct 1998
Upated by Cindy Birk Conley August 7, 2011
Copyright ©1998, 1999, 2000, 2011 by Laurel Crook and Cindy Birk Conley, all rights reserved. For personal use only. Commercial use of the information contained in these pages is strictly prohibited without prior permission. If copied, this copyright notice must appear with the information.